The San Francisco Pride celebration is one of the most important Pride festivals in the world, and it's not hard to see why. The event, which takes over SF's Civic Center Plaza for two days, incorporates 20 stages and venues to give the full breadths of the LGBT community and "weave [them] together…in a beautiful mosaic." For a measly $1.00 donation, you have access to booths from such amazing organizations as the Fearie Freedom Village, Queer Youth Stage, Leather Alley, and something called Tantra Trance. Want to find out what "Tantra Trance" means? Come find out! See how things were organized for the 2022 festival in these adorable maps—for Saturday and for Sunday.
Celebrating Leather and Sun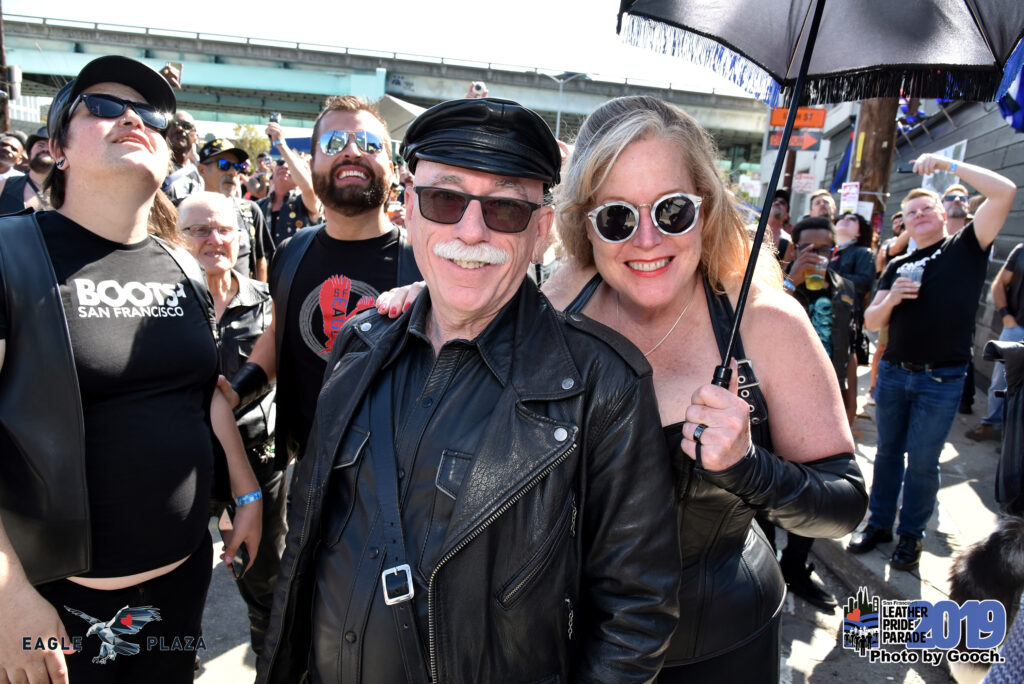 The San Francisco Pride Parade starts at 10:30am on Sunday, June 24, and travels down the historic and beautiful Market Street. Aside from tens of thousands of spectators and some of the most flamboyant floats this side of Rio, after the parade, SF Pride will also announce winners for all kinds of awards for "creativity and engagement in the San Francisco Pride Parade," including Absolutely Fabulous Marching Contingents, Absolutely Fabulous Float Contingents, and Absolutely Outrageous Contingents.
Why is San Francisco's a particularly important Pride? For a number of reasons. First of all, because it was the first place the LGBT rainbow flag was unfurled in 1978. But most importantly, San Francisco has a rich history with LGBT rights and activism, going back to before the years of the AIDS crisis. This history is never clearer than with the SF-based Sisters of Perpetual Indulgence, whose gender-bending drag belies the seriousness of their community work and activism, especially when it comes to issues of sex and sexuality. Keep an eye out for them in San Fran, and wherever you plan to celebrate Pride!
The Official San Francisco Pride VIP After Party, "Under the Rotunda" promises the perfect post-parade entertainment in the form of a "hosted bar, delicious hors d'oeuvres, and three rooms of non-stop entertainment." Between 2 and 5, you can rub shoulders with LGBT royalty. Buy your tickets here! (You can also purchase a Pride Pass, which, in addition to a ticket for the VIP party, offers grandstand seating for the parade, a SF Pride t-shirt, and a pin.)
Check out SF Pride on Facebook here, and learn more about volunteering here!
While you're in San Francisco, there's so much to see and do you may just want to stay forever! Check it out:
San Francisco is one of the best examples of how America would never have existed without people of color. An American city with a huge Asian-American population (second only to Honolulu), SF offers a rich look into the relationship between a burgeoning America and the labor, culture, and food of Asian people. San Francisco boasts having the biggest Chinatown outside of Asia, and there's a reason it's a must-do for anyone visiting the city. World-class restaurants rub shoulders with the most amazing greasy take out, trinket shops may be confused for dealers selling Chinese antiques, and the architecture alone is worth a trip. After that, the Asian Art Museum of San Francisco, with a collection of tens of thousands of works from dozens of Asian nations, serves as a perfect introduction to sculpture, painting, woodcut, and more. Check out their Food as Healing exhibition, where you can sample actual Asian dishes! And, if you want to get a better taste for the struggles Asian Americans faced despite their crucial role in linking the west coast to the east, take a tour on Angel Island, where Asian immigrants were detained before being allowed to enter the country. And then check out SF's incredible Japanese Tea Garden for a relaxing cup of green!