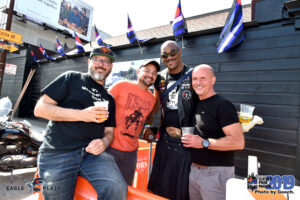 Greetings, adventurers! If you're reading this, it means you're considering attending the Leather Pride Fest, one of the most vibrant and inclusive events in San Francisco. Well, buckle up (or should we say, strap in?), because you're in for a wild ride!
On September 17th, 2023, the SoMa district will transform into a haven for the bold and the beautiful, the daring and the different. The SF Eagle Bar, a beacon of diversity and acceptance, is hosting this year's Leather Pride Fest at the Eagle Plaza. Here's a sneak peek into what you can expect.
1. A Celebration of Leather Culture
The Leather Pride Fest is not just an event; it's a celebration of a culture that embraces freedom, individuality, and, of course, a love for leather. Whether you're a seasoned veteran of the scene or a curious newcomer, you'll find a welcoming community ready to share their passion and knowledge.
2. A Feast for the Senses
Prepare to be dazzled by a variety of performances and displays. From fashion shows featuring the latest in leather couture to live music that will get your heart pumping, there's something to captivate every attendee. And let's not forget the tantalizing array of food and drink options to keep you fueled throughout the day.
3. Workshops and Demonstrations
Want to learn more about leather care? Interested in the art of crafting leather goods? Our workshops and demonstrations have got you covered. Led by experts in the field, these sessions are designed to be informative, interactive, and fun.
4. A Safe Space
Above all, the Leather Pride Fest is a safe and inclusive space. We celebrate diversity and encourage respect and consent. So, no matter who you are or where you come from, you're welcome here.
So, are you ready to unleash your inner rebel? Join us on September 17th at the Eagle Plaza. Let's make the 2023 Leather Pride Fest a day to remember! This years Leather Pride Fest is the Gateway to LeatherWeek! "